---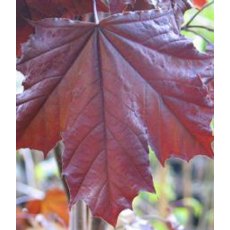 Acer platanoides 'Crimson King' 12L
'Norway maple'. A large, vigorous, spreading, deciduous tree with dark purple-red leaves turning red in autumn. Bears small yellow red tinged flowers. Will grow in most well-drained soils in a sunny position.
---
Malus 'Laura' 12L
A small tree. A naturally dwarf tree with an upright habit, for even the smallest garden. Dark purple-green leaves and stunning pink and white scented flowers in April. Persistent large, round, maroon fruit perfect for the best crab apple jelly. Can be grown in a pot. Suits most well drained soils in sun or partial shade.
Prunus 'Royal Burgundy' 10L
A NEW deciduous tree with double pink rose flowers in spring. Deep purple foliage through summer turning crimson in autumn. Plant in full sun or half shade in free draining soil. Height - 3-4 metres (10-12ft) in 10 years.
---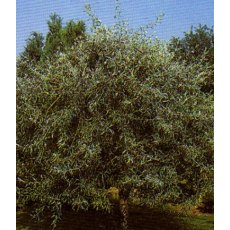 Pyrus salicifolius var. orientalis 'Pendula' 10L
'Willow leaved pear'. A weeping tree. One of the best tree's for the smaller garden. The leaves are narrow, silvery-grey in colour, and it has white Pear blossom in April. Very elegant & attractive. The shape is determined by pruning it to shape (which is easy!). Prefers well-drained soil in sun or part-shade.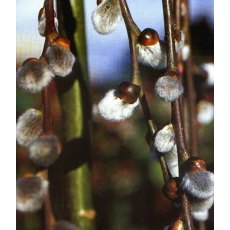 Salix caprea 'Pendula' 140cm stem 10L
A deciduous weeping tree with yellow-brown branches and dark green leaves, grey-green beneath. Produces grey catkins with yellow anthers from Late February to Late April, before the leaves. Height & Spread - 1.5-2.1m (5-7ft). Grows in most soils in sun/part-shade.