---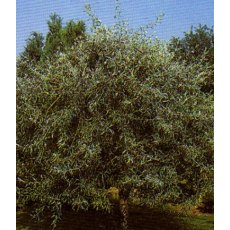 Pyrus salicifolius var. orientalis 'Pendula' 10L
'Willow leaved pear'. A weeping tree. One of the best tree's for the smaller garden. The leaves are narrow, silvery-grey in colour, and it has white Pear blossom in April. Very elegant & attractive. The shape is determined by pruning it to shape (which is easy!). Prefers well-drained soil in sun or part-shade.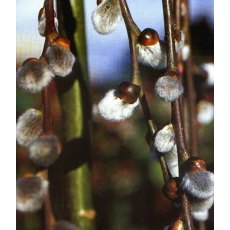 Salix caprea 'Pendula' 140cm stem 10L
A deciduous weeping tree with yellow-brown branches and dark green leaves, grey-green beneath. Produces grey catkins with yellow anthers from Late February to Late April, before the leaves. Height & Spread - 1.5-2.1m (5-7ft). Grows in most soils in sun/part-shade.