---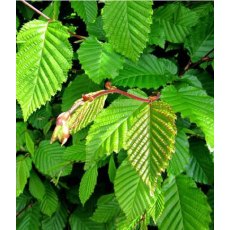 Carpinus betulus - Espalier 120x80
Trained on a frame for instant screening! 'Hornbeam'. Serrate, ribbed leaves and characteristic grey, fluted bark. Deciduous. Trim to preferred size.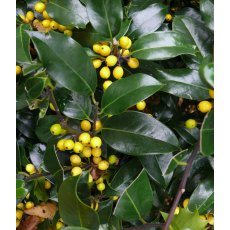 Ilex aquifolium 'Bacciflava' (F)' 60cm Std 7L
A female variety. Rich, glossy, minimally spiny, dark-green leaves and abundant clusters of bright yellow berries in Autumn. Will form a good crop of berries if a male plant is nearby. Grow in well-drained soil in sun or partial shade. Height & Spread - 3-4m (10-13ft) in 10 years.
---
Ilex aquifolium 'J C Van Tol' (H) 60cm Std 7L
Hermaphrodite form. Trained as a standard. An evergreen purple stemmed shrub with puckered dark green leaves with abundant bright red berries from September through to Winter. Can also be used to pollinate female varieties of holly. Can be grown in containers. Height - 1.8m (6ft). Will grow in most soils in sun or shade. Buy 2 for £75.00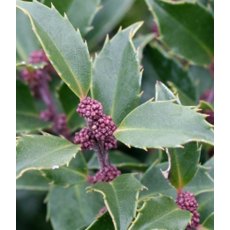 Ilex x meserveae 'Blue Prince' 60cm Std 7L
A male form of 'Blue Holly'. Glossy, evergreen, dark blue-green spiny-toothed leaf margins. Relatively slow growing making it suitable for the smaller garden. Produces small white flowers in late Spring. Ideal as a pollinator for female varieties. Will grow in most well-drained soils or situations, but prefers a sunny position. Height - 2.1-3m (7-10ft). Spread - 1.2-1.5m (4-5ft).
---
---