---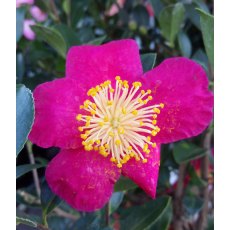 Camellia x vernalis 'Yuletide' 19cm
'Yuletide' is a hybrid (C. japonica × C. sasanqua) bushy, evergreen shrub with glossy dark green leaves and brilliant-red single flowers with prominent yellow stamens, borne in late winter and early spring. Prefers a moist, humus-rich, free-draining neutral/acid or ericaceous soil in any aspect - with the exception of East facing. Can be grown in a container.

Clematis cirrhosa 'Jingle Bells' 2L
A vigorous evergreen climber with nodding bell-shaped creamy-white flowers with pale yellow anthers, from November to March. Height 2-3m. Spread 1.5m.Will grow in well-drained soil in sun or shade with protection from cold Winter winds. Trim back after flowering.
---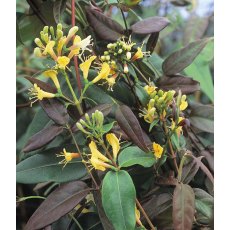 Lonicera henryi 'Copper Beauty' 15cm
An evergreen Honeysuckle with trumpet shaped, coppery-yellow scented flowers that bloom throughout Summer. Has bronze new leaves that later turn green. Height - 2.4m+ (8ft). Will grow in most humus-rich well-drained soils in sun or partial shade.
---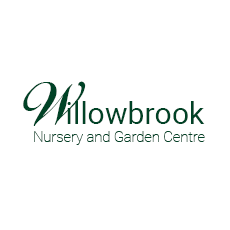 EVERGREEN AZALEA 'Bollywood' (EA) 3L
A dwarf evergreen shrub. Great for containers. The flowers are displayed in April/May. Grows well in acid soil that is moist but well-drained, in sun or part-shade out of cold winds. Height - 0.6-1.2 m (2-4 ft).
---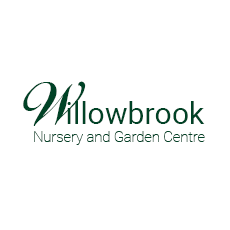 Lavandula shaped as a Christmas tree
Welcome Christmas with a twist. This Lavender plant has been shaped to look like a Christmas tree. Ideal for cooler locations like a colder room in the house.
---