The Bottled Baking Co.
The business was born out of a love for high quality family baking. Greg developed the idea and every single recipe in his kitchen at home back in 2016.
He still develops all of our new products at home along side his little one and everyone in his street gets to sample the new ideas too.
All of our products are still handmade in Yorkshire, we just make a lot more of them nowadays and we are building a fantastic team to help us grow.
---
---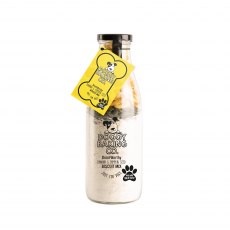 THE BOTTLED BAKING CO. Drool-Worthy Pumpkin Seed & Banana Doggy Biscuit Mix in a Bottle
Pumpkin Seed & banana? Yes! This combination is brilliant to bake loads of drool-worthy snacks for your four legged friend. Bake up to 76 doggy treats from a single bottle! *also called dog cookies Doggy Test: Can you balance one of the biscuits on your dogs nose and count to ten without it falling off or your dog moving? Yeah... us neither.. Palm oil free 100% Reusable Glass Bottle Handmade...
---
The Bottled Baking Co. Categories